Professional, Local Painting Contractors
We're your local painting contractor offering world class quality. From our employees to our finished work, we take the time to do it right the first time every time.
Our business is built around our employees. Our team of local professionals is exactly what the title implies: dedicated, skilled, respectful, and fully qualified.
Here are the core tenets that have kept us in business for years:
We never subcontract. All of our work is done by dedicated and well-trained employees.
We treat your home like it was our home. No loud music, and always a thorough clean up. We'll even let the dog out or feed the cat!
We maintain quality in our work and in our business practice by providing a stable work place where our employees can make a career out of being craftsmen. We carry liability insurance, workers compensation, and withhold appropriate taxes instead of subcontracting and paying cash to people outside of our business.
Our work is guaranteed. Your paint job will not only look good when we're finished, but we'll guarantee it for two years, and then some.
No interruptions. We work steady from start to finish.
We take the time to do the prep work. Without careful sanding, patching, caulking, and protection of landscape and furtniture, you won't be saving money.
Our Team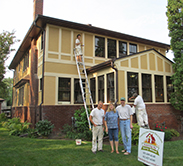 We believe that the quality of our work is only exceeded by the quality of our people. Our estimator and field manager Ron Wolfe and our foremen, Adam Fredericks, Hugo Reynosa, and Marlon Reynosa have nearly 100 years of combined painting experience and over 60 years with Jerry Wind.
Get your FREE Estimate!
Fill out our quick form and we'll get started right away.
People Are Talking
You don't have to take our word for it! See what our clients are saying about us.